Why Invest In Our
Cleaning Lead
Generation Program?
Cleaning Leads Pro aims to be Your Go-To lead generation or appointment setting program Connecting Households and maid services under one roof. Impress homeowners with clean houses by adopting our lead generation services in your marketing strategy.
Regardless of the industry you're catering to right now, cleaning leads generation is all about consistency and how fast you're able to connect with facility managers actively searching for reliable and certified cleaning contractors. Cleaning Leads Pro emphasizes its resources on generating and then qualifying every appointment and making it easier for cleaning services to get past the initial screening process. All commercial cleaning or house cleaning leads we will send your way will be verified first to save your time.
Cleaning Leads Pro is a one-stop solution for commercial cleaning leads, and house cleaning leads. If you are a cleaning contractor looking for janitorial jobs in your area, then fill up our contact form now. You simply have to visit, inspect and provide an estimate. With more than a decade of experience in the cleaning industry, we know the possibilities persisting here. We generate leads for carpet, window, gutter, janitorial, and overall deep cleaning jobs to back you up throughout the year.
We bridge connections between you and facility managers in your area – 
This is just a small part of our complete lead generation services dedicated to cleaning contractors only. Simply mention the locations of your interest to get started.
Scale Your Cleaning Business Today
Our blog will keep you updated on new and effective ways for streamlining your cleaning and lead generation services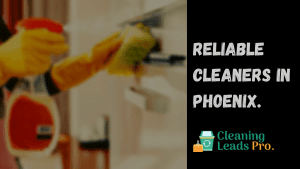 Cleaning services are there to make our life safer as well as easier, particularly during this pandemic. The competition among cleaning services in Phoenix is
Read More »